Hyper local marketing – the new way to grow your business
Updated: 8/5/2020
"Has your business begun using hyper local marketing?" - If such a question has come up when you discuss business with others, we are not surprised.
Hyper local marketing is the new kid on the block when it comes to growing your business – and with good reason: If your business includes physical stores, they are always part of a local community. And if the store can communicate authentically – and thereby connect with locals – it creates trust and will in time hopefully turn the locals into local customers.
Here are a few stats to ponder if you're still not convinced:
Users want Google to use their location every time they search for something, even if they don't add location modifiers. Such searches have grown by 150 percent, according to Google.
When content from a business is visibly local, organic performance can increase by an average of up to 2500 %.
In the following, we're diving deeper into hyper local marketing and seek to answer all the relevant questions you might have on the topic.
Table of Contents
What is hyper local marketing?
Why does hyper local marketing work?
Get started with hyper local marketing
How can Post Office Social help my business?
What is hyper local marketing?

Hyper local marketing is a new trend in marketing that focuses on a smaller number of shoppers in a very specific area.

Let's pretend for a second that you own a store where you repair and sell used cars. In such a scenario it makes great sense to target locals and to create content that features employees and customers from the store. Why? Because such content builds trust and is relevant to the locals.

When locals suddenly need your service or product, your business is likely both top of mind and the closest option. Furthermore, we can hope that customers will keep coming back if they had a good experience the first time they did business with you.
Why does hyper local marketing work?

Looking at data from Google it's clear that near-me searches have become immensely popular in recent years.

Over the past two years there has been a 500 % increase in mobile searches that contain the words 'near me' and a variant of 'can I buy' or 'to buy'. If that does not show clear intent from the user we don't know what does! This data supports the widely known assumption that when people do longtail and hyper local searches, they search with the intent to purchase.

For example, if you want to buy the new bestselling book, you will most likely type "bookstores near me that have this book". By doing so, you want this book and know where to buy it now.

A comprehensive study showed that 78 % of local mobile searches result in offline purchases. Such a stat is quite impressive and should only further your interest in hyper local marketing. If you're convinced and want to start off with hyper local marketing here are three low-hanging fruit, to begin with:
Getting started with hyper local marketing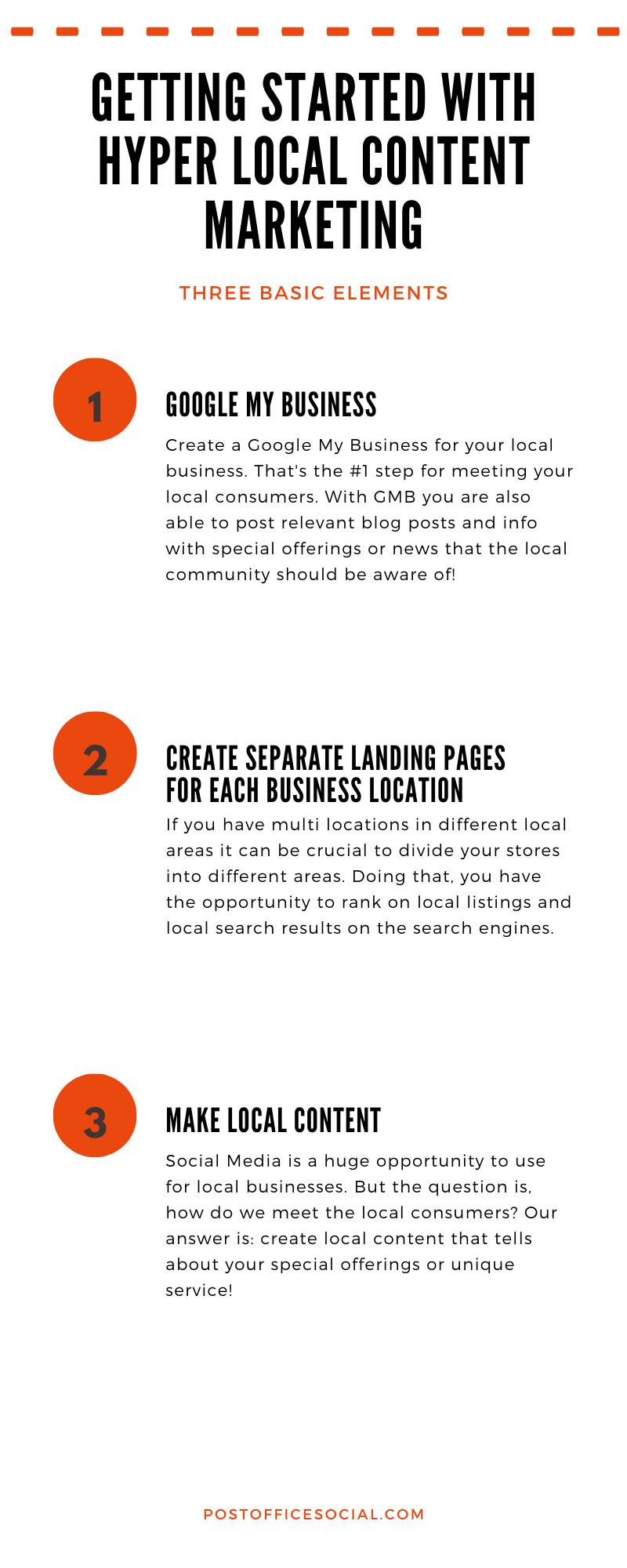 #1 – Google My Business

If you are a small business owner that has a physical location, you have to optimize your Google My Business page right away. This is the backbone of hyper local marketing because Google is so dominant when it comes to search engines.

So make sure you fill in as much info as you can on this platform. Especially:
A description of your business. You can add relevant keywords, and do so within the first 100 words. Avoid keyword stuffing, however.
Add as many high-quality photos as you can.
Add your business address and make sure it's consistent with the address on your website.
List your phone number or phone numbers and set your operating hours and working days.
Pick up the primary category that describes your business's services, products, and goals. This will help by increasing the visibility for search terms related to your category.
Have great reviews. These days everyone checks reviews and average ratings. A large number of quality reviews will result in higher rankings and sales.
#2 – Create separate landing pages for each business location

If you are a major company with many physical stores, it's important to have specific landing pages for hyper local purposes. Why? Because it will help boost your appearance in search and increase local rankings.

Make sure to develop personalized content for each location and make sure to include location-based keywords within your content. And that leads us to the last tip…
#3 – Make local content

Let's face it – social media has radically changed how brands communicate. If a potential customer writes to you on Facebook, you better have an answer asap or the customer is gone. A dialogue-based type of communication is the only way of communicating going forward.

That change in the technological landscape has brought companies and consumers closer. Which, in turn, has brought about a need for authenticity in the way companies communicate. If you think about it for a second, it's quite obvious: Would you ever engage with social media content that is not for you and has no relevance to your daily life or local area? Probably not. On the contrary, the odds of you paying attention to content that is relevant for you (for instance a good offer from the local clothing store) is way higher.

But as all business owners know high quality, relevant content does not simply fall in your lap. It takes hard work and knowledge about content to create content that users will engage with. And during a busy work week who has time to focus solely on content? The answer is probably no one. So what's the answer? Post Office Social!
How can Post Office Social help my business?

Post Office Social is a simple tool that makes it easy to mobilize your local employees on social media. This gives your organization a better reach and better customer relations with locals in the given area.

With our service content creators from your HQ can easily send ready-made content to your local units and help them plan what to post and when. At the store, the local employee can easily customize, approve and publish the content If you're worried about your visual brand identity getting compromised please don't. Templates with pre-made copy, graphics or video can be uploaded and downloaded anytime to the platform. This way local staff can easily create content for their social channels while ensuring it's in line with your overall visual brand guide.

Post Office Social is easy to use and ensures that local employees easily can post high quality and local content that fits perfectly with a hyper local marketing strategy.

Data from our clients shows that when content is visibly local, the organic performance increases by an average of up to 2500 %. But don't just take our word for it.

Matas – a Danish chain with 250+ physical store that sells beauty products – is using Post Office Social. And here's what SoMe-manager Maja Fabech has to say:
We have immense marketing powers in our local stores' social media channels. Post Office Social helps us benefit from our local presence with a tool that supports our local employees. Our stores are satisfied because it is simple and easy to use and effective too – and we are delighted because of the results, we see. – Maja Fabech, Social Media Manager, Matas
See the short video and learn how Post Office can help your business create and manage local content:
If you have any questions regarding Post Office Social please write to us (hello@postofficesocial.com) or try our service 30 days for free.